Many skin care treatments can harm you rather than help you. Furthermore, we know that at some point you get tired of going to beauty centers and prefer to get to know your skin, so that you can identify the best cosmetic products according to your skin needs.
Today we'll share with you some essential products for each skin type that will undoubtedly help you to have a healthy and luminous complexion. Don't forget that a balanced diet and drinking enough water daily are good habits to implement for a better looking skin.
Dry skin tends to often have desquamations and roughness due to the lack of sebum, consequently the face becomes dehydrated and less protected. To combat this problem, we recommend adding these specific products to your skin care routine: cleansers such as micellar water and cleansing milks.
To cleanse the skin, these products must contain moisturizers or emollients in their formulation, as they will help you maintain the natural oils in your skin. Moisturizers must contain ceramides, these will help retain the moisture. And for sunscreens, formulas without parabens will be your best option. Also, avoid washing your face excessively and don't use products with an acidic pH.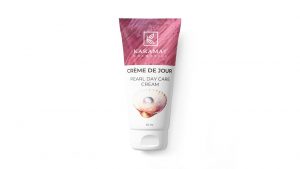 Take care of your skin by using The KARAMAT COSMETICS PEARL POWDER day cream. An innovative formulation, lightening, anti-aging and oxygen infusion. It helps to significantly reduce the appearance of pigmented spots, preventing the formation of new ones. It offers protection against harmful UV rays that cause aging (equivalent to SPF20 +).
OILY SKIN
This type of skin presents an overactivity of the sebaceous gland, producing an excessive accumulation of sebum. That's why you need to know which products will help you control it and which ones are harmful to you. These must be special, which is why we recommend using products that are hypoallergenic, non-comedogenic, oil and alcohol as they can break up your skin internally and cause irritation. Another factor to keep in mind is not to exfoliate too much, all skin natural oils will be removed from your face and your skin will try to compensate by stimulating more sebum production. Forget about over-cleansing your face, it will only cause skin aging.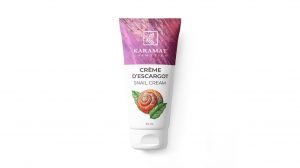 The KARAMAT COSMETICS SNAIL CREAM contains Essential Snail Secretion which enhances the regenerative and regulative features of skin. This provides maximum protection against harmful outside factors with maximum regeneration and moisturizing. It helps increase moisture retention capacity of skin while reducing the appearance of wrinkles, blemishes . It is a "TIMELESS REPAIR CREAM" which helps reducing dark spots, acne Sebum.
COMBINATION SKIN
Combination skin is very common. For people with increased sebaceous secretion on the forehead, nose and chin, the first thing to consider is to stop using oily creams that can generate an acne problem. It is preferable to use oil-free products, and as for moisturizers and anti-wrinkle creams, choose to use two types: one with light excipients in which there is a higher percentage of water than oil for the T-zone and another with a higher oil content for the eye and cheek area.
Regarding sunscreen, the best option for combination skin will be a non-comedogenic cream with a light texture.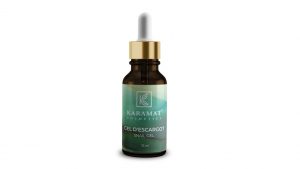 The KARAMAT COSMETICS SNAIL GEL is a true wonder of nature, it makes it possible to regenerate the layers of your skin and to attenuate the effects of future cutaneous ageing thanks to its repairing properties. It helps nourish the skin and increase its elasticity with the Snail Secretion. The Snail Gel, which contains hyaluronic acid, protects the skin by creating a moisture barrier on the skin surface. It also improves the skin condition with organic Aloe Vera. Contains Organic and Cosmos Certified ingredients. Such a special product for such a special skin type.
SENSITIVE SKIN
Sensitive or reactive skin has a very delicate protective barrier, so it is sometimes complicated to choose a specific beauty treatment. But don't worry, all you need to do is choose products that are not drying, free of aggressive agents, and above all, that have soothing active ingredients that soften and refresh your skin. It is best to stay away from cosmetic products containing alcohol, perfume, dyes or alkaline soaps.reactive skin
NORMAL SKIN
Although we all wish we had this type of skin, it is actually less common than you might think. This happens less when you already have mature skin, because it is a skin type that is in perfect balance, it is neither too dry nor too oily. But even when it's normal, it needs to be cared for to avoid certain imbalances, especially because throughout the years, normal skin can lose its moisture, which requires consistent treatment.
We suggest that you use creams or serums that contain hyaluronic acid in your skincare routine, this will help diffuse luminosity and hydration in the skin. As for facial exfoliation, don't make the mistake of using it more than three times a week, as your skin can go from normal to completely dry due to the loss of its essential oils. And don't forget to wear your SPF daily, even during winter !