Sometimes it seems that your skin is impossible to control, especially when discovering new pimples in front of the mirror gives you anxiety. That's what makes us question: what causes the appearance of this acne? And above all, how to get rid of it?
1. Knowing your enemy is a battle half won!
A pimple begins to appear when the pores of the skin become clogged with a type of oil called sebum, which normally lubricates the skin and hair. Acne is common during puberty, when hormones get out of control, causing the skin to produce excess sebum. Since many oil-producing glands are found on the forehead, nose and chin, it is in this area – the T-zone – that most pimples appear.
2. Want to get rid of those nasty little acne pimples? We're giving you all the solutions!
Wash your face twice a day (not more) with warm water and a mild soap specially designed for acne prone skin. Gently massage your face in circular motions. Do not rub your face!
Do not pop pimples. It's tempting, but here's why you shouldn't: When a pimple bursts, it can push the infection into deeper layers of your skin, causing more inflammation and redness and even injury, which can leave small permanent scars.
Avoid touching your face with your hands or leaning on objects that tend to collect oil and skin debris, such as a mobile phone. Touching your face can spread bacteria that cause inflammation and pores irritation. To prevent the spread of bacteria, wash your hands thoroughly before applying products to your face, such as creams or makeup.
If you wear glasses and/or sunglasses, make sure to clean them often to prevent oil from clogging the pores around your eyes and nose.
Remove your makeup before going to bed at night. When buying makeup, choose products whose label or packaging says "non-comedogenic" or "non-acnegenic". Discard old makeup that smells or looks different.
Keep your hair clean and avoid contact with your face so that oil and dirt don't further clog your skin pores.
Protect your skin from the sun. A tan may appear to cover up the acne, but it's only temporary. A tan can make your acne worse rather than better. The sun also causes skin lesions that eventually lead to wrinkles and increase the risk of skin cancer.
Never use alcohol, antiseptics or soaps that destroy the skin flora, microbiome, and dry the skin by raising its pH unnecessarily.
The micellar waters made for acneic skin have the advantage of being both effective and quick to use. A simple cotton sweep is usually sufficient.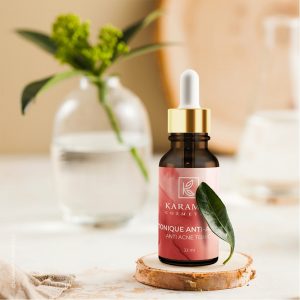 The classic duo: a make-up remover milk and a good tonic can also help reduce the appearance of acne on your skin. We advise you to use the ANTI-ACNE TONIC based on 54% rose water, perfectly adapted to acne-prone skin. It helps to purify the skin and prevent the formation of acne pimples thanks to its active ingredients.
Apply a purifying mask once to three times a week to absorb the excess sebum responsible for shine, to unclog and tighten pores by eliminating blackheads. Try THE PEEL-OFF BLACK MASK with ECOCERT CERTIFIED NORWEGIAN SEAWEED, it nourishes and restores a visibly smoother and mattified skin thanks to the vitamin B3 it contains.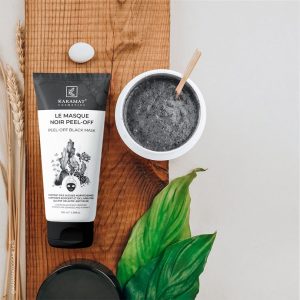 Be patient and persevere with your skin care routine, you will surely notice an improvement. And for those who suffer from more severe acne with inflammation, it's best to consult a dermatologist. He or she will certainly be able to prescribe a more suitable treatment.